Garageland. Volume 1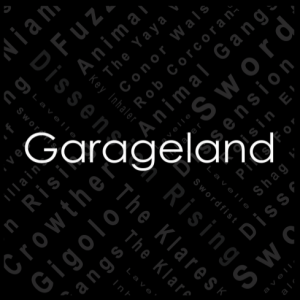 It's taken over 17 years but Garageland have finally announced details of their much awaited compilation album out on Garage Records on April 14th.
Since 2001 Garageland has been helping a generation of bands (including Ham Sandwich, Delorentos, Ryan Sheridan, The Script, Kodaline, Fight Like Apes, Royseven, The Immeadiate and literally thousands of others you haven't heard of) forge their own trail through the formative stages of the careers. Some have gone on to huge things, some haven't.
"Rather than focus on the past, with this record we're looking at what's around now and the next generation of artists who are coming up and we are geniuinely excited about." Dermot Lambert, Garageland Director.
This Is Garageland – Volume 1 – SLEEVE NOTES
In the 17 years that I've been running The Garage Gigs, I have seen thousands of artists perform. Thousands and thousands. And yet every time I speak to a band or an artist for the first time, it's like the very first time ever. Every single person has the entire universe inside them, and everybody also seems to have a way of letting it flow through. The urgency, the magic, the sorrow, the struggles, the effort, the escape that music brings to us all, and I've witnessed it in it's rawest form, time and time again. That's what happens on The Garage Gigs. That's why I'm still doing this after 17 years. This album you are listening to is a testament to the enthusiasm and the dreams that make all people do something great in their lives.
The Garage Gigs isn't about finding 'the next U2', that Holy Grail of 80's and 90's major record label A&R department treasure hunting. This is about actual treasure hunting. Across these 16 tracks, from completely different types of artists, a consistency of engagement and creativity is at work, all urgent and calm in their own way, and all striking in their arrival at this time, and on this album.
From the opening chaotic rampage that is Animal Gangs, a track which raises the entire debate of record production values with it's lo-fi brilliance, to the mature and seemingly calm and collected Rob Corcoran and The Necessary Evils as they perform a track from a live show in Dublin, the album sets out it's stall. Niamh Crowther, who has had tons of success from Garageland and beyond makes perfect sense setting the tone for Dissension Rising, a fully engaged rock band who work solidly touring America, indeed they were recently awarded Best Newcomer for Uncivil Revolt Mag USA, and Best International Band from Elephant Talk Music Indie Awards USA.
Fuzz Gigolo played with us in 2016 twice and we were instantly smitten with the complexity and application they bring to create monstrously demanding tunes, while Inhaler battered their way through a steamy set last October making music that could only have been inspired by their folks record collections, assuming of course that their folks must be cool.
Then Key come along and it's all lounge-lizard and 'where did you people come from??' – unhurried, sure, bare, cool – followed by the assault that is The Klares, where nobody gets to hide in any dark corners, and nobody tries to anyway, where cobwebs get blown away and ears get cleaned.
Darragh Cullen started making records when he was like, ten or something, and now he has put this incredible band around him, The New 52, which has enabled him to grow further into his creations, and he takes an ever growing audience with him, while Pills For My Nerves throw in a grenade with 'Sundays', a song which every punk band will wish they had written, I kid you not. As I write, Roisin El Cherif has been put on the finalists list for the International Songwriting Competition in the USA for 'Kerosene', when Roisin performed with us it was just her and her guitarist Cappy, and the room was entranced.
The Garageland crew swooned for Shag Haired Villains when they played with us, with their sense of fun only serving to balance the solid rocks being thrown from the stage. Swordfist, three unassuming lads, very quiet, very polite, almost shy, became a favourite in a world where we are not supposed to have favourites – Ice Cream Van by Swordfist is just great, and the nicest place you could possibly go after hearing it is to Dunlaoire with Conor Walsh, recently split from Sideline Fire, but still besties, Dunlaoire is one of those magical little things. Finally The Yaya Vuze track Whatta They Know is a total pick-back-up everything which sees this album go out with a blast.
There's still teams of A&R out there trying to find the next U2, but in the meantime you can find something much more meaningful if you do a bit of looking yourself.
These artists are real, and they live in your town.
And in truth, they don't really need your help, but I would guess you might need theirs.
I would like to thank IMRO, IRMA, RAAP, Hot Press Magazine, RTE 2XM for their continued support with the entire Garageland project
Dermot Lambert
March 2017
Pre order your album
here.
For more information
press@top6.ie