'Garageland Galaxyz at Cruinniú na nÓg'
5.30pm every evening Live and online until August 15th 2022
WOW! Well THAT happened!
Thank you to everybody involved in an incredible day of music from the young musicians all over Ireland! Thank you to the many many mammies and daddies and guardians, youth workers, teachers, and to the huge amount of Crew who pulled this enormous project together! What an achievement! Thanks so much to our strategic partners Creative Ireland  for making this possible, and to RTE for the huge backing. Well done everybody on super work – you should be all very proud. Dermot Lambert, Garageland.
We will continue to broadcast Highlights for the next 4 weeks, with Full Stages Specials being broadcast from Thursday 30th June at 5.30pm at this link.
8 live stages all over Ireland, and in-studio performances streaming across multiple platforms, complete with special guests and music industry workshops. On 11th June 2022 this GIANT all-ages festival sets a new benchmark in Irish Youth Music events.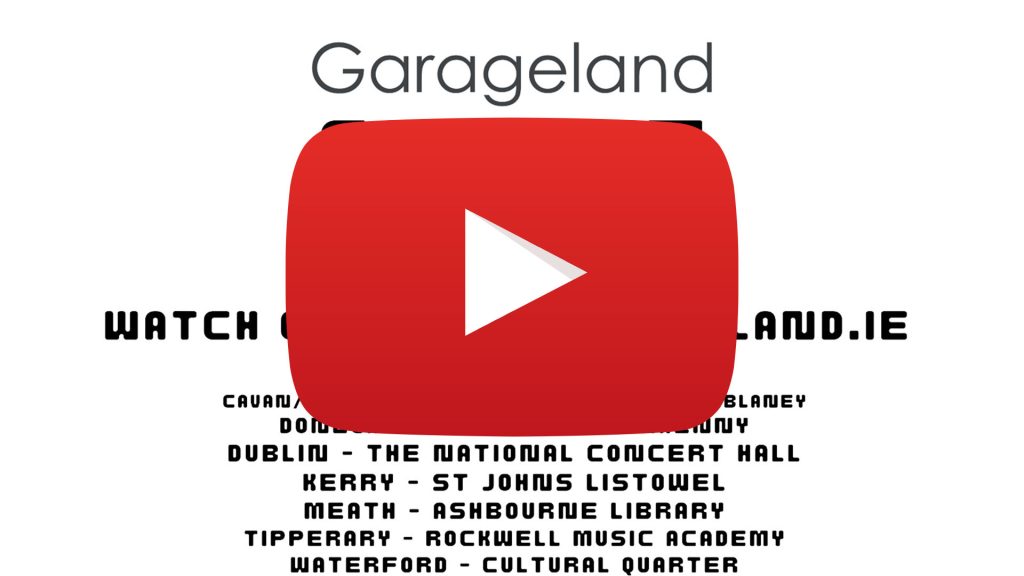 Garageland is an artist resource, specialising in supporting upcoming musicians of all ages and genres. Each of our 4 umbrella projects have unique support features which allow our artists to engage with their artistic journey at their own pace in a professional and welcoming environment.
Garageland Galaxyz – Strategic partnership with Creative Ireland – Supported by RTÉ
Garageland Galaxyz is for the new generation- The biggest ever Youth Music project designed by the Garageland Team – designed during some of the most challenging times in living memory – designed for this new Ireland – we believe in inclusion for all of Ireland's young musicians – it's A Safe Space To Shine!
———–
Garageland Youth Music – Creating and producing innovative and unique projects and programmes for youth services since 2007.
———–
Garageland on RTE 2XM is our popular weekly radio show – Mondays 7pm – 9pm.
———–
Garageland TV with online reach in excess of 1,000,000 in 2021, Garageland TV is growing at a rapid rate. Plans for 2022 are for further growth.
———–
The Garage Gigs – Gigs for Emerging Artists 18+ –  Book your own gig on our automated booking system without any hassle or judgement, and progress your art at your own pace.
Our crew are friendly and professional, and we make it our mission to make sure you, the artist, have a great gig with us every time. We look forward to helping you and your music! To learn more and book a date click here
———–
Latest News