Creating & producing innovative & unique projects and programmes for youth services since 2007. Here's some of the highlights.
Restricted Mic is Back! Friday 29th Oct 2021 at 7.00pm on Garageland.ie
Just when you thought it was safe to go back in the water!….. Friday 29th October and Monday 1st November at 7pm on all Garageland and City of Dublin Youth Service Board Platforms!
Following hot on the heels of Garageland Lockdown Live on Tour, we are delighted to raise the roof again with Restricted Mic Autumn 2021!
A two hour Special Featuring Young musicians from all over Dublin and beyond!
To tune in simply go to garageland.ie – simple!
Happy Halloween!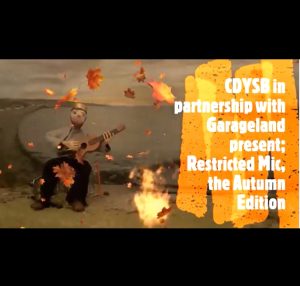 What an astonishing day that was!
Garageland at Cruinniú na nÓg 2021
This is a little 4 minute video to say thank you and well done to all of our performers and helpers on Sat 12th June 2021.
Kicking things off with Beth and Adam Buttimer from Rockwell Music Academy, we have a snippet of every performer from the day – ending things with Sam Walsh's beautiful version of What A Wonderful World, and a letter from President Michael D Higgins.
74 Young Acts across 11 Episodes!
165 Young individual performers
108 Videos from Young Acts
8 Music Industry Workshops
Total Screentime 12th June 8hrs & 20mins (!)
With Very Special Guests – Gavin James, Picturehouse, Power Of Dreams, Fuzz Gigolo, Mum's The Word
8 Music Industry Workshops with top industry professionals including Edison Waters, Sonya Murphy Lyons, Billy McGuinness, Sheena Madden, Breffni Banks (IMRO), Dave Browne, Craig Walker, Paddy McPoland
8.5 hours of broadcasting on 12th June
With great support from our strategic partners Creative Ireland, and supported by RTE, the project was delivered at more than twice the size of its original plan.
———————————————————————–
It's Heeeeeeerrrrreeeeee!
We simply can't believe this day has arrived!
Almost 100 young acts are taking part, with some REALLY special guest (some are still secret, even now), and workshops from some of the most influential music industry giants to ever be seen in the same place on the same day!
Starting at 10.00am Saturday 12th June – we kick off Garageland at Cruinniú na nÓg 2021 – right here at www.garageland.ie!!
See NEWS for full line up poster!
Announcing Extended Line-up For Garageland at Cruinniú na nÓg 2021!
It's almost here! Spark up the barbie for a giant day of music and cool workshops!
With an overwhelming response from young musicians from all over Ireland, we are delighted to announce that we have more than DOUBLED the line-up for Garageland at Cruinniú na nÓg 2021!
Starting at 10.00 am on Saturday 12th June, this monster online event will feature over 90 performances of artists of all ages and genres, broadcasting across multiple online platforms from www.garageland.ie and on RTE 2XM
Performances from .. Amber Lilly Maher – Amy Rigney – Anna Kearney – Alexandra Vozza – Binath Neththasinghe – Ballymun Regional Youth Resource – Ciara Lennon – Clare lambert & Nevan Lyons – Conor McPartlin – Club Óige Feachtas – Daniel McEnteggart – Depoint – Don't Tell Mum – Dylan Shortt – Eoin Devereux – Fiona Cassandra Vargas – Fuze – Finglas Youth Resource Centre – Gwenaella Noval – Hannah Mcfadden – Japanese Swordfishing – Jay El & Maria – John Leo – Joshua Regala – Katelyn Harrington – Kayleigh Berry – Kerry-Ann McCreery – Lillie & Jean Foley – Lisa Price Song School – Lithium Lounge – Luke Whearity – Mezzo Music Academy – Muireann McDonnell – Mod se7en –  Nathan Clynes – Private Idaho – Public Warning – Rockwell Music Academy – Rolling Scones – Sadhbh & Susie – Shauna Samra – Sophie Healy – Soundstrand – The 78's – Taylor Dowling – The Floats – The Monday Jam – The Flies … More artists To Be Announced…
Music industry workshops featuring the cream of the Irish Music Industry include Edison Waters and Ailish Toohey (Collective Management), Paddy McPoland (legendary tour manager, currently with Clannad and Sinead O'Connor), Billy McGuinness (Aslan), Sheena Madden (Amplify Agency), Breffni Banks (IMRO)
Songwriting Q&A's with Dave Browne (multi award-winning songwriter with Picturehouse) and Craig walker (Power Of Dreams, The Avener, Booka Shade).
Special guests will be announced closer to the day, and we can't wait to tell you who we have joining us!
Watch Garageland at Cruinniú na nÓg on these platforms
https://garageland.ie/garageland-tv/
https://www.youtube.com/garagelandtv
https://www.facebook.com/garageland.ireland/
https://www.facebook.com/RTE2XMDigitalRadio
————————————————————————————————–
Garageland at Cruinniú na nÓg 12th June 2021
PLEASE NOTE EXTENDED CLOSING DATE – APPLICATIONS ARE NOW CLOSED.
We are delighted and excited to announce our strategic partnership with Creative Ireland for Garageland at Cruinniú na nÓg 2021.
On June 12th we will be hosting a giant online festival, featuring artists from the ages of 10 to 18 from all genres and from all over Ireland. The festival will go live on multiple online channels from 10.00am until 6.00pm, with audio links to RTE 2XM.
Watch Garageland at Cruinniú na nÓg on these platforms
https://garageland.ie/garageland-tv/
https://www.youtube.com/garagelandtv
https://www.facebook.com/garageland.ireland/
https://www.facebook.com/RTE2XMDigitalRadio
Launched by Minister Catherine Martin, Cruinniú na nÓg 2021 is a collaboration between the Department of Tourism, Culture, Arts, Gaeltacht, Sport and Media, the Creative Ireland Programme, local authorities and RTÉ and is the only event of its kind in the world. Garageland is proud to be a strategic partner for 2021.
If you are in a band / solo performer / singer songwriter aged 10 – 18, and you are interested in taking part in Garageland TV at Cruinniú na nÓg 2021 simply write YES to info@garageland.ie and one of our team will respond to you, or you can upload your own videos at this link www.garageland.ie/upload
Calling Young Musicians ages 10 – 18 in Ireland!
Garageland is proud to announce a national online Irish youth music festival in June 2021. Full details to be announced soon.
We are calling out to all young musicians ages 10 – 18 who would like to be featured in this festival.
The day will be broadcast across a number of online platforms and media outlets, with an audience of thousands of people (pretty exciting stuff!).
Special guests will be joining us on the day, with songwriting workshops from some of Ireland's most successful songwriters.
We will have a live Q&A with music industry professionals, who can offer advice on how to get ahead in the music industry.
Young musicians are invited to send us videos for inclusion and broadcast on the festival. Videos can range from simple home-made videos shot on your phone, or if you have the opportunity to make one in your club or project, following Covid guidelines, we will of course accept this too.
We welcome original material, but we will also accept covers, so don't be shy!
All genres are welcome, from Urban and Grime, from Rock to Indie, to singer songwriter. Poetry too!
We currently have 60 slots available (already filling up). We are calling on youth clubs and projects to put young artists forward to be a part of this very exciting event!
What you can send
A video of your song (or two), preferably something you've written yourself, but covers are good too.
Please add a paragraph about you, where you live, and your song. If you're in a music group, tell us a little about your group.
A few words on video (about thirty seconds) of what you love most about lockdown in your part of Ireland – top 10 answers will recieve a voucher. ("What I love most about Midleton in lockdown is…..")
You can apply to take part in two different ways
Send your video on MP4 format preferably (and paragraph as outlined above) to info@garageland.ie.
OR simply write the word YES to info@garageland.ie, and our crew will contact you and guide you through the process.
Who can take part?
Any musician aged 10 – 18 of any genre from anywhere in The Republic of Ireland.
Spoken word performances welcome.
Instrumental performances welcome.
All participants will be confirmed through parent or guardian, or through clubs and projects.
Closing dates – PLEASE NOTE EXTENDED CLOSING DATES!
Closing date for YES emails is 24th May
Closing date for Video uploads 31st May
—————————————————————————————————-
Garageland rocks CDYSB again as major online events are planned for 2021
Just Say Yes – and the Crew will contact you!
Calling all young musicians!
Garageland with The Irish Daily Star, RTE and City of Dublin Youth Service Board is thrilled to announce another special edition of Garageland TV to be shown on 
www.buzz.ie
Featuring young musicians from all over Dublin, this project is one of many that Garageland is promoting to help young artists who are especially affected during the difficult times with the Covid lockdown. In this episode, we also celebrate the rise and rise of Inhaler, currently riding high on USA TV, who did all their first gigs with Garageland, supported by The Irish Daily Star!
If you are a young musician, and if you'd you like to take part in any of the exciting projects planned during the summer, simply write the word 'YES' to 
info@garageland.ie
 and the Garageland Crew will get in touch with you.
We are also inviting any young person interested in working with these artists, as photographers, Instagrammers, TikTokkers, guitar techs, drum techs, programmers to get in touch in the same way – just say 'YES' to 
info@garageland.ie
 – and the crew will contact you!'
Restricted Mic Series in partnership with CDYSB – June / Oct / Dec 2020
City of Dublin Youth Service Board has teamed up with Garageland to create yet another great initiative for young artists. Restricted Mic is an online project designed to raise the spirits and focus young creative and artistic minds. At 7pm on 2nd and 9th November the show features young musicians (and some very special guests) playing songs from their homes, clubs and projects in the best Covid lockdown fashion. Supported by RTE, The Irish Daily Star, IMRO and www.buzz.ie, City of Dublin Education Training Board and the dept of Children Equality Disability Integration and Youth
Garageland All Ages at The National Concert Hall  – 2020
Just before lockdown on 7th March 2020, live at The National Concert Hall with Mezzo Music Academy and a number of Dublin Youth Clubs and Projects. This show was filmed and has been shown on Garageland TV on The Irish Daily Star website.
Cruinniú Na Nóg with Dublin City Council – 2019

Cruinniú na nÓg Young Musician Showcase with Garageland and Dublin City Council in Liberty Park, Dublin, Sat 15 June featuring Lavengro,  Magazines, Stolen City, Soundstrand, Michaela Murphy, Vincent Comerford, Keith Mulligan & SWICN Youth. This was a great day for all, with Lavengro travelling all the way from Derry to appear as special guests, having just signed a record deal with Coda Records UK. Magazines had just released their first single, and Stolen City had just finished their Irish tour, so it was a great day for the younger artists to share the stage with these more experienced artists. The weather was lovely too, so you can't ask for more than that! Thanks to Creative Ireland and Dublin City Council for including Garageland in this great initiative.
INDY City Youth Music Festival – July 2018
In the first of it's kind, we staged a monster Festival smack bang in the middle of Temple Bar, featuring 35 acts, including young artists who were poerforming for the first time ever, alongside luminaries like Christy Dignam, Dave Browne, Paul Walsh (Royseven) and many more – complete with hot dogs! What a day!
Irish Youth Music Awards (IYMAs) Created and directed by Garageland's Dermot Lambert
In July 2007, Garageland's Dermot Lambert designed a unique programme which included opportunities for young people to play and create music, while also gaining an education on a broad range of real world skills. Youth Work Ireland commissioned the project in September 2007.
The programme included training in music performance, song writing, Recording & Studio Production, Artist and Project Management, Studio Production, Expressive Performance, Vocal Coaching, Percussion Workshops, Guitar & Piano Workshops, Photography Workshops, Design Workshops for Album Sleeves and posters etc, Image Workshops for bands and artists, as well as legal and financial advice.
Bringing in top personnel and musicians from the Irish Music Industry to engage directly with the young people, with Q&A sessions, providing Education, Motivation.
Working with youth workers all over Ireland, North and South,the programme fostered team building and inclusion for all participants, working to a brief of zero exclusion, and constantly hitting and surpassing targets.
This programme became hugely successful over the 7 years under the direction of Dermot Lambert, and it still continues to date.
The Big Sparkles with CDYSB
We've had the great privilege to co-create these super special shows shows for young people with the Arts Office for City of Dublin Youth Services Board. These shows usually feature approx 200 young people onstage, and our role is one of overall production, direction, liaising with youth workers, venue, technical staff and amazingly talented young performers!
'Now That's What I Call The Big Sparkle' (Dec 2017)
'The Big Sparkle Christmas Edition' (Dec 2015)
'The Big Sparkle Shine On' (May 2014) – All 'Big Sparkle'shows in The Helix O'Mahony Hall, and all featuring as many as 200 young people onstage throughout performances!
Garageland at The Grainstore DLR Coco
Specially created educational and fun modular programme for young artists and tech fiends, which featured 5 prongs of creativity.
Songwriting with guest speaker Thomas Walsh of Pugwash fame.
Recording with the crew from Ashtown Recording Studios.
Event organising – this led to numerous in-house gigs and 2 festivals!
Press and PR with Craig Kingma of Soundgate Media & Records.
Photography with Mick Quinn, award winning photographer.